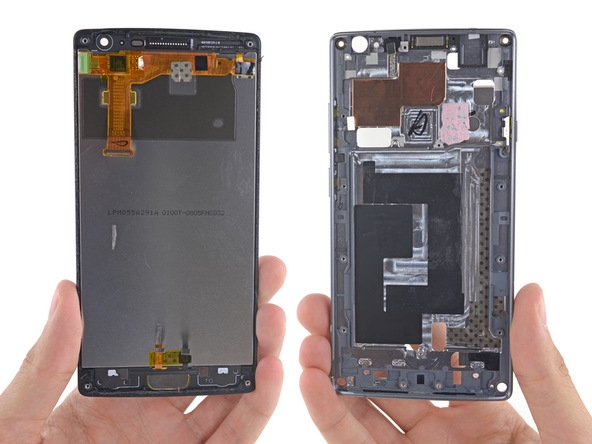 Here we walk you through how to replace a broken Oneplus Two screen.Tools Needed: Heat Gun/Hair Dryer、Phillip Screwdrivers、Spudger Tool、Case Opening Tool、Screen Suction Cup Tool、Tweezers、Ejector Pin
Step 1: Remove the back cover. Power off the device. Insert your fingernail into the opening slot on the bottom left side of the device, and run it around the edges to release the back cover. Step 2: Remove the SIM card tray.
Step 3: Release the rear housing. Use Tweezers to remove the 6 black rubber caps and 1 white rubber cap. Remove the 18 screws. Please place the screws in groups so as not to mix them up. Gently pry up the rear housing to remove it.
Step 4: Pry up the flex connector to release the battery.
Step 5: Remove the cameras.  Pry up the connector to release the back facing camera.  Pry up the connector to release the front facing camera.
Step 6: Pry up the charging port flex connector and then pop up the motherboard.
Step 7: Release the charging port flex assembly.
Step 8: Pop out the loudspeaker assembly.
Step 9: Release the LCD assembly.  Heat up the device to soften the adhesive.  Use a suction cup tool to pull up the LCD assembly, insert the case opening tool and run along the edge to separate the LCD assembly from the frame. Reassemble the Oneplus Two with a new screen replacement in reverse order, and then you're done!